BASEMENT

REMODELING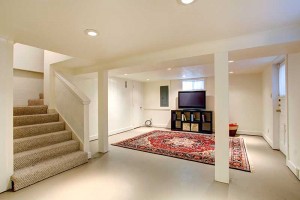 Basement remodeling is a popular add-on project in the Madison and surrounding areas.
We are fortunate to live in an area of the country where most homes have basements. Basements originated because home foundations must extend below the frost-line and in our climate that's at least 4′ down. It was easier to clear out the foundation pit than just a perimeter trench, so unfinished basements became the norm.
Over time, older homeowners have started taking advantage of the additional living space that basements can add to home. The perimeter walls are built and plumbing and electrical connections are typically accessible compared to 2nd story additions and remodels.
For first time home builders the finishing of the basement is often left out of the initial build due to budget constraints.  However, most builders of these newer houses usually have the plumbing "roughed in", making a basement remodel easier.
You can do a full-basement remodel that includes adding a bedroom with an egress window or a bathroom for your own private spa or workout area. Maybe you want to make more use of your laundry and storage spaces.  With a team of Certified NARI Remodelers, we have the credentials and experience necessary to meet any of these needs.
Consider expanding your square footage of finished space today!