SKYLIGHT 

REPLACEMENT
When it comes to skylights, we know what will be the best solution for your home.  With over 30 years of skylight installation experience, we have done all the research so you don't have to.  With our tough climate, you wouldn't want to skimp on an opening that is exposed as much as a skylight is.  That is why we only offer the premium name brand of Velux skylights.
Velux skylights has been the front runner for:
Skylights
Roof Windows
Sun Tunnel Skylights
Modular Skylights
Commercial Skylights
Skylight Blinds
Accessories
Solar Powered
"Fresh Air" Skylights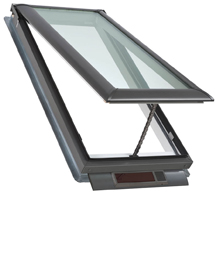 The Solar Powered "Fresh Air" Skylight is a motorized solar power venting skylight.  There is no need to have it wired into the homes electrical system.  It has an integrated front solar panel that recharges a highly efficient battery and powers a operator control system.  It will even charge the battery if there is snow covering the solar panel.  An automatic sensor will close the skylight if moisture is detected to protect the interior of the home from rain.
It is available in deck mounted and curb mounted skylights and there is a wide variety of solar powered blinds and accessories .
Electric "Fresh Air" Skylights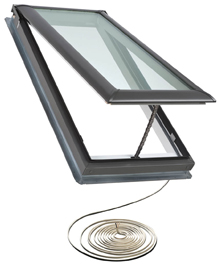 Designed for both deck and curb mount installations, the VELUX Electric "Fresh Air" skylight is the perfect daylighting solution for overhead applications. It allows for abundant natural light, and with the touch of a button, opens to let in fresh air. And if you forget to close it, a rain sensor will shut the skylight during inclement weather.
Manual "Fresh Air" Skylights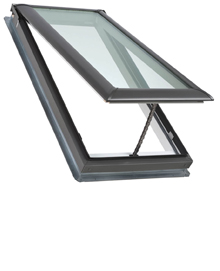 Designed for both deck and curb mount installations, the VELUX Manual "Fresh Air" skylight enables any home to embrace the best of what nature has to offer. Opening for maximum fresh air, this venting skylight contributes to a home's proper moisture balance and comfort level by allowing stale, humid air to be released.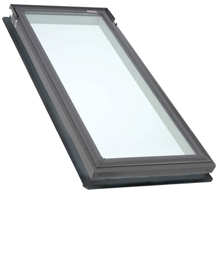 VELUX fixed skylights, designed for deck mounted installations, are perfect for visually expanding areas such as hallways, stairwells, and other closed-in, dark spaces that can be transformed with light and sky views. They provides an economical choice in creating a spacious home that is filled with natural light.
The Solar Powered "Fresh Air" Skylight
Replacing an Old Bubble Skylight
Instant Light Shaft Promo